Selective Sweetheart
Rina Mood
About
Hello!
Hiyo, I'm Rina! I'm a bubbly conversationalist wrapped up in an extra small package - a sparkling gem with a charming natural smile. My petite spinner body is sleek and smooth, with a touch of softness down my hips and thighs. My eye-catching blue hair accentuates my high cheekbones and lovely jawline - you'll see~
My Asian-Canadian upbringing means my mindset is a mix of East meets West. Beautiful traditions grounded in hard work and service, with the fiery strong voice you can admire of today's youth. I love listening to people speak their mind - on travels, food, pets, games, anime, whatever gets you excited to chat. Topics come one after the other, speckled with laughter and joy. Before you know it, you'll be dreaming of your next visit.
Investing in your wellbeing is extra sweet when it's with me. I'm a treat for the mind, body, and soul. Let's get comfy with each other ♡
Size & Treats
Silhouette: 5'1, slim petite spinner

Size: 00, XXS

Shoes: US 5.5-6.0

Food: vegan, tasting menus, Vietnamese, Thai, Japanese

Drinks: kombucha, tea, sweet zero-proof cocktails

Snacks: blueberries, strawberries, vegan popcorn

Scents: jasmine, fruity-floral, fresh laundry

Flowers: lily of the valley, blue flowers, purple flowers

Music: vocaloid, high energy/heavy/dub, metal

Special interests: indie pixel games, anime, Netflix, vtubers, platform boots & heels, and vegan food & fine dining
I'm happy to see those who eagerly cover all that we experience~ My comfort is the determining factor in the joy we can cultivate together.
Gifts and tips are welcome, but not mandatory. If you'd like to send a giftcard, I collect cards for:
* Spa cards
* AirBnB
* Amazon.ca
* Sephora Canada
* Aritzia
* Etsy
* UberEats
Please send digital cards to rinamood@pm.me. I also have wishlists and funding opportunities:
Going out!
Take the time together as time to relax and treat yourself to some authentic company! To cultivate coziness and joy, think spa times, shopping, flow or yin yoga, walks along the sea wall. I'm polyamorous and not afraid to hold your hand, share some hugs, and maybe even sneak in some kisses if that is what you'd enjoy too ♡
Shopping (bring your card~)

Spa time

Flow or yin yoga

Karaoke

Choirs, orchestras, concerts

Movies

Gaming
First of all, I'm a long-time vegan which means I do not consume anything made with animal products - no dairy, no eggs, and no land/sea animals! I love tasting menus and pretty food ♡I'm sober and will remain so during our social time. You may partake in a glass if you wish, but watch yourself so we can both enjoy our time together. If your motor functions go, you go too.
Feeding the Vegan Princess
The Botanist

Addah

COFU

Raisu

NightShade

The Acorn

Viet, Thai, Japanese cuisines mostly!
Content
Like many lovely ladies of the internet, I grew my ego through the validation of thousands with digital media. I am nearly entirely self-shot, self-directed, and most definitely amateur. I love to take photos as I acquire new panties, lingerie sets, costumes, anything to show off in! No bells and whistles here - just me. I am enough, and I'm happy with that~
I active upload content is on LoyalFans and OnlyFans,. Self-serve content can be purchased via LoyalFans (preferred, yandere RP) or Fansly (2023 and prior, vanilla stuff). My social media are Twitter, Instagram, and Reddit (inactive).
Any platforms outside of the ones mentioned on my site you using my name or images are created from stolen content and/or identity theft. They are removed regularly with my DMCA service. I watermark my images so you don't get catfished ♡
Payment
All custom content requires 100% of payment upfront via:
| 🍆 rates | Customs | Live cam/voice |
| --- | --- | --- |
| 75USD | 150USD+ | Currently closed |
E-transfer,OR

Wishtender, OR

BTC/ETH
Refunds are at my discretion via BTC or ETH only.
Booking & Etiquette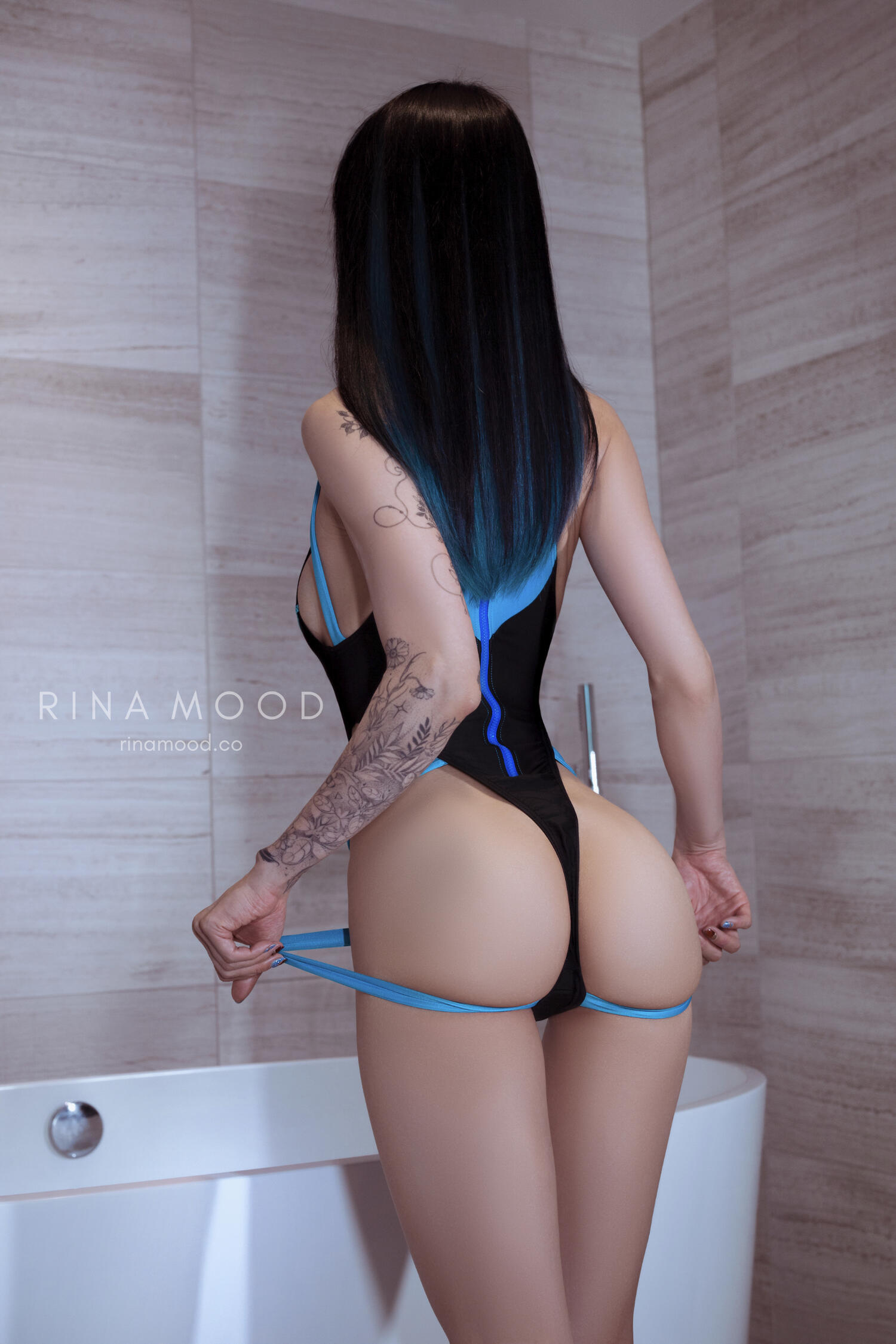 Consent-Forward, Mood-Dependent
I am Rina Mood, MoodyRina, that blue-haired lady strutting like a sexy slim cat. I'm not entirely new to this... so let's be forward. No sexting, long email chains, no fantasy talk or fantasy booking. I love consent, and I love talking about it; I can assure you that I'm perfectly able to speak up on my boundaries as we approach anything I might not be into! Call them "restrictions", and I'll likely not be in the best mood. Common sense though of course - no bare FS.
Please wear no fragrance or very low fragrance. Hygiene is important to me, and I also strongly prefer some manscaping so I don't get lost down there~
If I have to tell you how to behave as a gentlehuman, then we probably wouldn't be a good match. I'm not into "rough play" on me. Absolutely no breath play. As we learn about each other over time, we might find some similar interests whether it's kink or care! Let's lean into that - the process is so hot to me 🔥
Greek is the big named extra due to prep. Everything else is up to my mood, and our chemistry. Let's take the time to explore each other.
---
Outcall & DT Incall Available
I am available at my upscale incall downtown, with centralized A/C and heating. I also do outcalls to select 4* or 5* hotels. Bring me up to your stay in the city ♡ No residential units.
Travel rates to the outcall be an additional $50-$100 at my discretion.
Simple Email Option:
Full name:

Age:

Phone number (non-app, used for buzzer etc):

Date & Time:

Incall or outcall:

+ Attached screening (selfie photo with gov-issued photo ID, ie. Drivers license) PLUS visible LinkedIn URL
---
Investment - all in Canadian dollars, non-negotiable
Private Dates
Up to 60min - 700 (incall only)

Up to 90min - 800

Up to 2h, my favourite - 1000

Each additional hour - plus 500
Incall fee: +100
Extended Dates
Up to 4h, dinner and dessert - 1600

Up to 6h, a day away - 2400

Social-only - 300/h, 2h minimum

Custom date packages available

Overnights, multi-day, and FMTY arrangements (starting from 3000+) - only for those who had seen me before: please present your plans in the booking form, and I will give you a quote
Each package listed allows up to half the time as private time. Dining time may be requested if date time is appropriate for a meal.
For dates out, I'm craving spa time, summer shopping, and yummy food - in that particular order 😋
More, More, More
Greek - plus 200-300

Duos - I request that the higher rate is applied to both companions
For domming: please go to "Take Me to the Dark Side" in the navigation bar. Depending on the dynamic, we may be able to play both GFE and dungeon. This is entirely at my discretion.
---
Deposit & Screening
50% non-refundable deposit via:
E-transfer with correct legal name (Canadian), OR

Wise e-transfer (international, OR

BTC/ETH, OR

GC of my choice
The session must be below 90min, and you must have a reference or seen me before to pay deposit with GC. Those without Canadian bank accounts may send via Wise e-transfer (any amount) or BTC/ETH (under 1000).
Responses are not owed to low-effort applications.
Plus, screening through:
LinkedIn and selfie with government-issued photo ID, OR

Two references from established providers
Investment may be given in an envelope or card.
---
Cancellation & Date Changes
| Time Before Session | Deposit Status | Due By Next Booking |
| --- | --- | --- |
| Over 48hrs | Carried over to next booking, non-refundable | No additional charges |
| Under 48hrs | Deposit is forfeit, non-refundable | No additional charges |
| Under 24hrs | Deposit is forfeit, non-refundable | Cancellation fee of 250, or 25% of session cost (whichever is higher), is due ASAP. Next booking will not be accepted until paid. |
It is customary in Canada that booked services (spa, hair salon, etc) that are no-showed on or changed last-minute are charged a fee up to the total session cost. Please respect my time as you would a hairdresser's time.
---
Review Etiquette
All my dates are intimate to me, both from my words and my touch. If you would like to dedicate a review to me, please keep some discretion in mind and email me before posting.
I request that you keep reviews on the shorter side, leave out the checklist style of acronyms, and treat me delicately. I am more open with the content of duo reviews because those are going to be too hot 🔥
DO NOT POST MY PHONE NUMBER OR ADDRESS. DO NOT DESCRIBE OR COMPARE MY FACE!!! This is for my safety. If you are a returning client looking to book again and you cannot reach me by text, please email me or send in a new booking form.
Please email me if you'd like to dedicate a review 🫶
Friends & Duos Together
Some of my gorgeous and sweet duo partners. I can't wait to see how the chemistry develops between you, me, and my friends ♡ If you've got an established provider in mind, let me know!
Pre-booking is required and I request that rates are matched to the highest rate.
---
Established Duos
---
Anticipated Duos
---